Reduce Fine Lines and Wrinkles with RevitaSkin!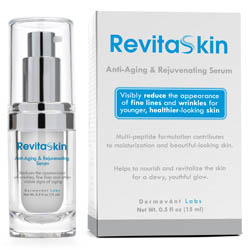 RevitaSkin Anti-Aging & Rejuvenating Serum

Topical Serum, Net Wt. 0.5 FL Oz.
Our Price:
$79.95
Shield against daily environmental damage with RevitaSkin, the brand new Skin Rejuvenating Serum from Dermavánt Labs. RevitaSkin's advanced multi-peptide formula improves moisturization for softer, healthier-looking skin and fewer wrinkles.
Apply RevitaSkin Anti-Aging & Rejuvenating Serum twice a day to noticeably reduce fine lines and wrinkles in just a few weeks!
How to Use RevitaSkin
Apply a generous drop of RevitaSkin to clean, dry skin. Gently massage onto the face and tap problem areas, for example underneath the eyes. To optimize results, use RevitaSkin twice a day, applying in the morning as well as in the evening.
Ingredients in RevitaSkin
Hyaluronic Acid
Hyaluronic acid is an incredibly potent topical moisturizer for dehydrated skin. Also referred to as hyaluronan, this polymer naturally occurs within the skin and is a key component to collagen production. Actually, hyaluronic acid is among the key components in charge of keeping skin smooth and tight. Topical use of hyaluronic acid has been proven to soften and minimize facial wrinkles, folds, and fine lines.
Vitamin E Acetate
Photoaging is definitely the most damaging source of aged skin. Vitamin E helps protect skin cells from the harsh effects of the sun's rays, in addition to increasing moisture and hydration. Vitamin E Acetate can also help moderate retinol levels within the skin, which then helps reduce wrinkles.
Licorice Root Extracts
Licorice root includes a polyphenol flavonoid called glabridin, which has been proven to even out skin tone for a clearer complexion. The glabridin in licorice suppresses pigment production in the melanocytes, which are the cells responsible for age spots, freckles, and melasma.
Green Tea
Green tea has countless benefits, but were you aware that green tea extract can also slow the signs of aging on your skin? Green tea extracts of EGCG have been proven to safeguard against ultraviolet radiation caused by excess sun exposure.
RevitaSkin also includes palmitoyl tetrapeptide-7, palmitoyl oligopeptides, aloe vera gel, Vitamins A and C, cucumber fruit extracts, pomegranate extracts, polysorbate-20, and carbomer.
Benefits of RevitaSkin
Hydrate and revitalize dull, damaged skin with RevitaSkin Anti-Aging & Rejuvenating Serum. As well as a potent blend of peptide compounds, RevitaSkin contains powerful antioxidant ingredients that help to keep skin smoother and longer. Renew and moisturize with RevitaSkin for a healthy, youthful glow that proves that age is nothing but a number.
Buy It Now for $79.95!