RevitaGen Stretch Mark and Skin Repair Formula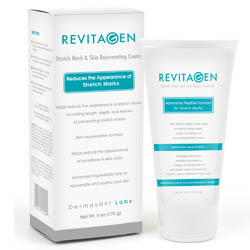 RevitaGen Advanced Peptide Formula

Stretch Mark Cream, 177.4 mL
Our Price:
$69.95
RevitaGen's advanced peptide formula was specifically formulated to reduce the size and severity of pre-existing stretch marks. This extreme skin repair formula penetrates into the deepest layers of the skin to stimulate collagen synthesis and skin cell renewal.
Say goodbye to stretch mark blemishes once and for all with RevitaGen. RevitaGen's micro active ingredients revitalize damage skin for beautifully soft, youthful-looking skin. Order yours today!
How to Use RevitaGen
Be sure to thoroughly wash and clean the skin, and pat dry, prior to using RevitaGen. Apply RevitaGen in the morning during your daily beauty routine and again in the evening prior to bedtime.
To use, apply directly to the skin, and massage until fully absorbed. RevitaGen penetrates deeply and absorbs quickly.
Ingredients in RevitaGen
Shea and Cocoa Butter
Shea butter is a natural sunblock agent, and can reduce the damage caused to the skin by ultraviolet radiation. Shea butter is also an incredibly effective moisturizer. Like shea butter, cocoa butter is also a highly-effective moisturizer, and has been proven to reduce the visibility of stretch mark scars over time.
Retinyl Palmitate
Vitamin A retinyl palmitate is a necessity for smooth, healthy-looking skin. Retinyl palmitate is frequently used in skin cream as a more potent alternative for retinol; both of which help to balance skin texture and smooth out fine lines, sagging, and stretch marks.
Aloe Vera
Aloe vera is known for its soothing and healing properties for skin problems, including dryness and itching. Aloe vera helps to hydrate and replenish damaged skin, and thus enhances overall skin texture and smoothness.
Palmitoyl Oligopeptide and Palmitoyl Pentapeptide-3
This blend of potent peptide compounds is the key to quality skin care from Dermavánt Labs. Palmitoyl oligopeptides and palmitoyl pentapeptide-3 help to strengthen and firm damaged skin, for improved elasticity and texture. By enhancing your body's own natural collagen production, these peptide compounds can help reduce stretch marks by repairing variations in skin color.
RevitaGen also contains peppermint oil, coneflower extract, cocoa seed butter, sesame seed oil, Indian gooseberry, sigesbeckia orientalis extract, bearberry extract, gotu kola extracts, licorice root, Vitamins A and E, sweet almond oil, and citric acid.
Benefits of RevitaGen
RevitaGen differs from other stretch mark treatments because it helps to improve overall skin health and texture to prevent new stretch marks from forming, in addition to treating pre-existing scars. Using RevitaGen consistently can help to improve the over size, depth and color of existing stretch marks.
Buy It Now for $69.95!