RevitaLume Under Eye Dark Circles Cream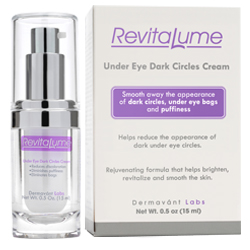 RevitaLume Dark Circles Eye Cream

Topical Serum, 15 mL
Our Price:
$79.95
Why settle for dark, droopy raccoon bags? Lighten and brighten dark, tired eyes with RevitaLume Under Eye cream. RevitaLume helps reduce under eye puffiness, swelling and discoloration, while soothing and strengthening thin, tired skin. RevitaLume can lift decades off your face with a simple twice a day application, giving you glowing, radiant skin.
Dark circles are caused by ruptured capillaries that are easily visible through the semi translucent skin beneath the eyes. Theses ruptures are similar to bruises, but can also result in inflammation and puffiness. RevitaLume can help smooth away under eye bags from the very first application!
How to Use RevitaLume
Using your fingertips, apply a single drop of the RevitaLume beneath each eye. This highly concentrated serum should be used sparingly, so lightly tap on the areas around the eye affected by puffiness and discoloration.
RevitaLume absorbs quickly. You should experience results within 30 minutes from the application. For best results, use twice in a daily basis.
Ingredients in RevitaLume
Palmitoyl Tetrapeptide-3 and Palmitoyl Oligopeptide
Did you know that the skin under your eyes is the thinnest out of your entire body? This is why it appears semi translucent, revealing the ugly bluish purple veins beneath. The palmitoyl tetra and oligopeptides stimulate collagen production in the thin, delicate layers of skin beneath the eyes. This strengthens and thickens the skin, which in turn reduces the visibility of the exposed veins. Over time, these powerful peptides can help to significantly fade dark circles, lifting years off your face.
Hesperidin Methyl Chalcone
Hesperidin methyl chalcone is a flavonoid commonly found in citrus fruits such as grapefruits and oranges. Hesperidin reduces the appearance of dark circles by preventing veins and capillaries beneath the under eye skin from leaking, which causes that dark, bluish purple discoloration.
Chrysin
Chrysin is a soothing, anti-inflammatory flavone that is naturally derived from honeycomb and blue passion flowers. This flavonoid is beneficial for puffy, inflamed under eyes, helping to reduce that icky "bag" look.
Cucumber extract
Cucumbers are a popular home remedy for puffiness and dark circles - and with good reason. The cucumber fruit is cooling and soothing when applied to the skin and is an effective moisturizer. Cucumber is also fortified with vital nutrients for the skin, including Vitamin C, potassium, caffeic acid and magnesium, among others.
RevitaLume also contains shea butter, retinyl palmitate, Vitamins A, C and E, aloe vera gel, sweet almond oil, hydrolyzed wheat protein, sesame seed oil, grapefruit seed extract, coconut oil, green tea extracts, licorice root extracts, mango butter, and bearberry leaf extracts.
Benefits of RevitaLume
Soothe puffy, tired eyes with RevitaLume Under Eye Dark Circles cream. RevitaLume's advanced blend of herbal ingredients work together to metabolize pigments, strengthen capillaries and reduce inflammation. The result? Smooth, vibrant under eyes.
Say goodbye to dark circles now! Order RevitaLume today.
Buy It Now for $79.95!